Activities in Millau
Relaxation at the castle and explorations by bike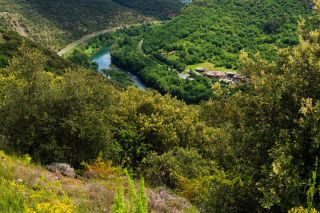 Activities on site at the hotel
Year round, you'll be able to enjoy the fitness suite and indulge in a spot of wellness during your stay at the Château de Creissels.
Hot oil massages are offered by naturopath Magali Bougrain. The benefits of Indian massage can be felt on the whole body. Among other things, it helps to regulate the immune, nervous and metabolic systems.

For rates and conditions, call:
+ 33 6 98 62 84 61
Alternatively, e-mail: magalibougrain@gmail.com
* Service reserved for hotel guests
Cycle routes from the hotel
Looking for nature, silence or a spot of exploration, all without getting too tired? Take a deep breath of fresh air by bike – electric bike, that is! Once you try it, you'll feel right at home – perhaps you'll even want to buy one! During your stay, try this form of transport out in peace and freedom. Even if you're not very athletic, it's not very difficult to ride. You'll thus be able to explore the Millau Viaduct from another point of view, as well as many isolated places and preserved landscapes.
We hire out two electric bikes at €30 for a half day and €50 for a full day. Helmet and backpack hire available.
More bikes can be hired on request and by booking.