Castle hotel Occitanie
Château de Creissels: visit the region from our castle hotel Occitanie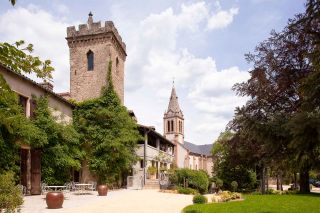 Château de Creissels is the starting point for many itineraries to discover all the specificities that make the region a must to see and visit. Ideally located between the Larzac plateau and Rodez, in the heart of the Grands Causses Regional Natural Park, Creissels has many charms that it would be a shame to miss. A castle hotel in Occitania which opens onto the wonders of Aveyron. It is its ideal position that makes the Château de Creissels the epicenter of the curiosities to be discovered, each more surprising and marvelous than the next. But before visiting the region and taking your car to drive for miles, you should take a stroll through the small streets of Creissels. Discover its architectural heritage, including the Bel-Air farm, which was listed as a building protected as a historical monument in 1994. Also enjoy bucolic walks along the Tarn, the Cascades stream, the Saint Martin stream or the of Isis. You can also discover the town of Millau, of which Creissels is close, and its famous viaduct which sits in the middle of the Aveyron relief.
Château de Creissels, a fabulous hotel in Occitania
From the Château de Creissels, take the opportunity to visit the surroundings. You can devote a day to discovering Rodez, its cathedral, its attractive architecture but also the famous Soulages Museum with its works as beautiful as they are unique. There are other getaways from our Occitanie castle hotel to devote a day to visiting. In particular, you could decide to visit the episcopal city of Albi. This medieval architectural ensemble made up of red stones is the most remarkable feature of the city but many other visits are essential. The Sainte-Cécile cathedral, the Toulouse-Lautrec museum but also many walks in the historic center or the discovery of the banks of the Tarn. For lovers of a big city, Montpellier is less than 1h30 away and therefore its beaches which allow you to fully enjoy the summer.
Further north, a 40-minute drive from Rodez, visit Conques, a village full of character whose unique way of life is just waiting to charm you. Considered one of the most beautiful villages in France, the Romanesque abbey church of Sainte-Foy is a must in Conques. The stained glass windows of the abbey were also made by Pierre Soulages, truly highlighting the monument. Outdoor activities, waterfalls, hikes are also possible to spend a day discovering Aveyron and its assets. And to dazzle your eyes, light shows highlight the city's assets every evening in winter, a real living picture that comes to life not to be missed, both for children and adults.